Hoy en "El Taller de Shockwave" echaremos un vistazo a las figuras promocionales o "Merchandise" lanzadas por diversas empresas o compañías.
En primer lugar tenemos la figura promocional que venía con el café enlatado "Boss Coffee" de la compañía Japonesa de alimentos Suntory en el 2008. Aquí tenemos una figura de PVC no transformable que venía en una especie de cápsula de plástico colocada en la parte superior de la lata la cual sería la base de exhibición para la figura. Este Shockwave presenta articulación en los hombros y la cintura, y viene con un pequeño catálogo que se puede doblar y conectar con la tapa / base para crear un pequeño display para esta figurita.
Luego tenemos al Dark Of The Moon "Flip Out "Shockwave de Burguer King del 2011. Es una cabeza de plástico de Shockwave que se abre para dejar salir el cuerpo del personaje en un look "Superdeformed". Shockwave es uno de los 8 modelos sacados en la promoción.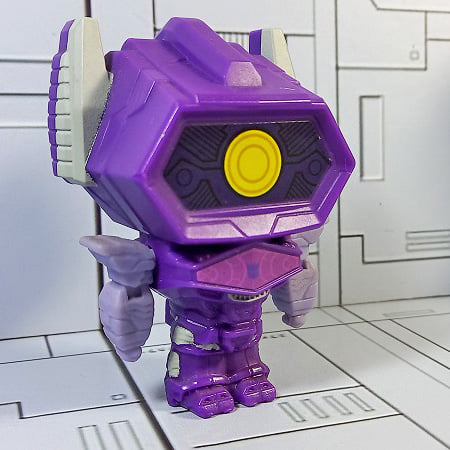 Luego tenemos la figura promocional de la conocida "Cajita Feliz" de McDonald's del 2018. Estas figuras son basadas en la serie Cyberverse, y su acción consiste en sus pequeñas botas cohete que se activan cuando tiras de sus brazos hacia adelante.
Y por último tenemos al Shockwave "Cajita Feliz" de McDonald's del 2019. A diferencia de la del año anterior, esta figura trae accesorios inspirados de la línea Cyberverse "Power Of The Spark" de Hasbro. Ya no tienen diseño "Superdeformed" sino algo más realistas, pero con articulación casi nula.
Como siempre les dejamos una galería de estas figuras de nuestro amigo lógico.
Síguenos también en Instagram:
¡Saludos!